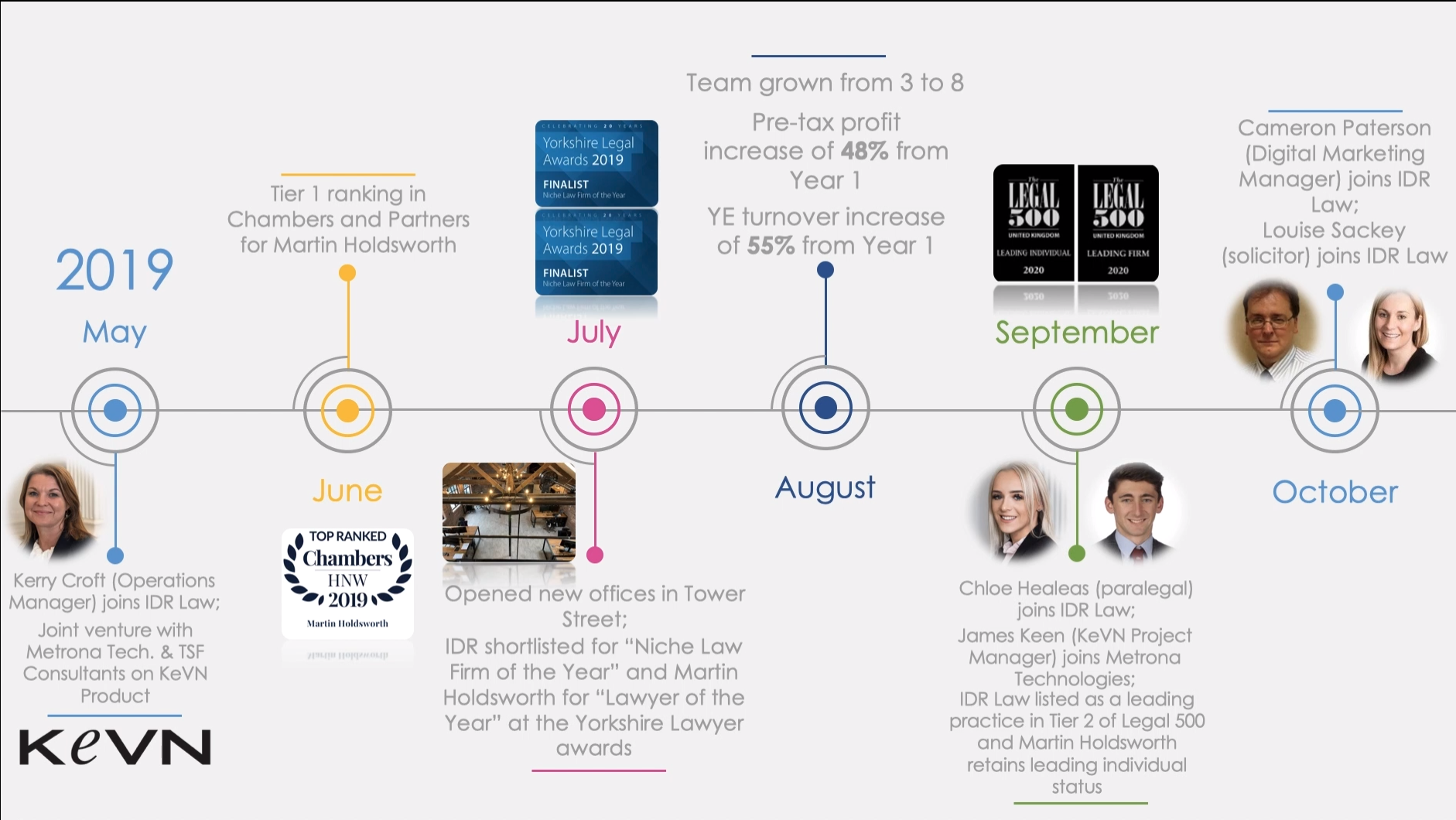 Inheritance dispute specialist IDR Law is two years old and a new birthday video summarises its development to date.
Based in Harrogate, IDR is a boutique firm specialising solely in inheritance disputes and contentious probate issues.
The Journey So Far… begins with the firm's creation in October 2017 by veteran probate lawyer Martin Holdsworth. In November he was joined by solicitor Richard Thomas and paralegal Kate Wootton and IDR has been on an upward trajectory ever since.
March 2018 saw Metrona Technologies established to research and develop a range of innovative software solutions for common problems and situations in the wills and probate administration process.
By September the firm had exceeded all trading targets. November saw the creation of FRisk.
In April IDR reached a significant milestone: cumulative turnover of £1 million since the firm first opened its doors. In June Martin received a Tier 1 ranking in the influential legal directory Chambers & Partners
In July 2019 the firm moved to new and substantially bigger offices and was shortlisted for Niche Law Firm of the Year in the Yorkshire Legal Awards. Martin was also shortlisted for Yorkshire Lawyer of the Year.
IDR received its first ranking in the Legal 500 in September, while Martin's leading individual status, one of only three in the whole of Yorkshire and the Humber, was renewed for another year.
The video ends by highlighting the forthcoming launch three separate software products:
KeVN, an online service for will drafters, designed to help them produce legally robust wills.
FRisk, a site aimed at those seeking financial advice, encouraging them to make wills and similar legal arrangements.
iDivide, a tool designed to help families divide inherited assets fairly.
Martin said:
"The last two years have really flown by. Things have gone better than I could have imagined back on day one and I am very happy with everything the team has achieved to date. Bring on year three!"